So I am still waiting on my last 100 rolls that were shot after the 30th. Once I get those sometime next week, I will have about 30,000 Kodachrome slides shot since the Old Man in Pie Town in late 06′ to edit. Tonight, I took a quick glance through a box of slides sticking out of one of the boxes it was shipped in and found one of the rolls of underwater scenes of tide pools in Acadia National Park I had shot, scanned one in..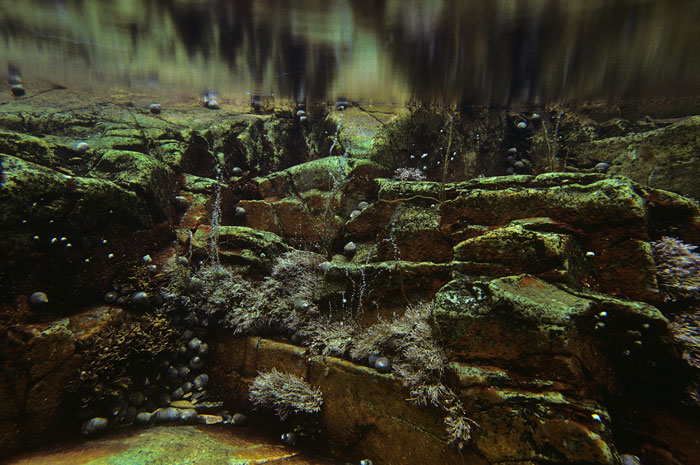 So this is not over yet and the site will actually morph from being a project to a way of thinking in terms of creating tangible photography that gives honest narrative of the lives we will live beyond our dance with Kodachrome. I am also planning a possible annual photo workshop that surrounds the ideal of how to best achieve what a Kodachrome should be about in terms of honest photography…
What a Kodachrome should become now and from here on out is an ideal that no matter what medium you are using, if you see a great convergence of light, color and moment on the back of your digital camera or your iPhone, well, that is a Kodachrome, a little window of truth in that not only do you not have to do anything more than print or show it, you really ought not to.
Just let the moment and the way you chose to frame it simply be. That way, we continue to hand down through the generations to come an honest portrayal of the way we lived and what we really saw.
There has always been a place for honest narrative and artistic license in the same world, there is nothing wrong with that, it adds depth and variety to our expression as human beings.
But let us not lose the respect of the real moment as it happened. For no matter how great an artist any person can be, the totality of all life through the voice of life it self will never be topped by us in any form of art we may create.
There is art in the truth, lets carry it forward in the ideal that it lives in what a Kodachrome has been and always should  be….
Leave a Reply
You must be logged in to post a comment.