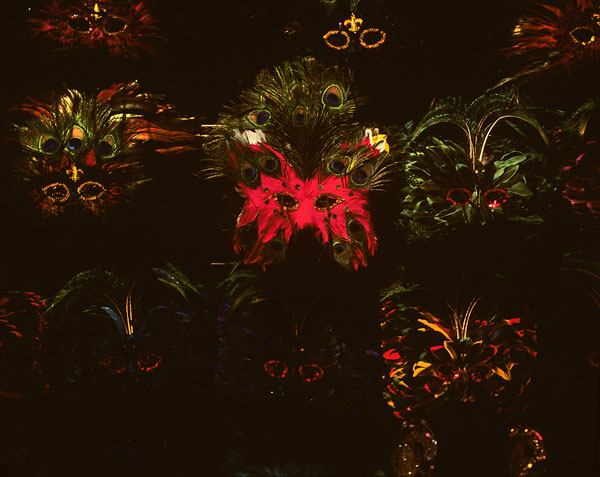 The Last Frame you shoot can often be too close to the tape if you are spaced wrong or simply press your luck. I try not to go past #36 but sometimes momentum just carries you on past it as in the shot above of the Mardi Gras masks that has been cropped a tad from the right. Thankfully there a couple of nearly identical frames in the set if I decide I need them…
I took this and the other 5 images on this post out of some hastily looked through boxes of slides at the lab to be able to have some to show people while shooting Kodachrome film well past the 30th of December deadline for getting your film souped. These images posted represent the time frame of the last two weeks of last year, some 2,000 more would be made after the 30th and before Dwayne's Photo would be done processing the enormous Kodachrome backlog that ensued…..I had more time and plenty of film.
At the close of business on the 30th, the last Kodachrome lab in the known universe would now have enough film to keep the processor churning until January 18th, 2011 when the last roll would go through. Dwayne Steinle would finish up shooting the last roll to go through the complex processor in the morning and I finished the last roll to ever be shot about 10 minutes later ….in less than two hours, our film would be done and Kodachrome would be brilliant pop-culture history put to rest.. .  .   .     .      .       .         .              .
From December 26th to 1:36 PM on the 18th, Dwayne's Photo processed 20,564 rolls of 35mm, 3,565 of 8mm and 57,655 feet of 16mm Kodachrome motion and still picture film. The load was staggering, office Manager Krystal Smith Adams had replied to over 2800 emails since December 1st. But the film got done just like it always had until finally, the machine was shut down and then all went silent…..
After my film was turned in and ran with the very last batch and the the K-14 machine was shut down, I shot Tri-X as reversal destined for dr5 until I reached home in Aspen via the Black Canyon of the Gunnison, my next book project to be shot all in black and white slide and negative medium format film….there is no stopping the creative freight train at this point, so I decided to help it along…
The photographs below are:  my father who lives near Dallas, downtown Dallas with birds covering the wires, men working at Cowtown in Wichita, KS, blue gelled flash on my camper window in Grand Isle, LA on a rainy day, and finally a rose light painted using a small flashlight in a circle ( when you have a cold, you have to shoot something ) You can see the partial ring if you look closely at the water drops…
Kodachrome is done, but my work with it is not. In fact I think this "Kodachrome Project" might just become a life-long affair with what is left behind, the beautiful Stained Glass Windows of Truth that are Kodachrome movies and slides…