Life-long resident of Pie Town, New Mexico, Kenneth "Pop" McKee seen in his workshop spent most of his time as a mechanic in the small town famous for it's pies which to this day is a popular stop for travelers and truckers.
At 74 years old, Kodachrome film's age rival's the average lifespan of a human being. Many of the children who were photographed on Kodachrome in it's first days are elderly now and like the film, they have witnessed a lot in this time frame.
From 1939-1945, photographers of the Farm Security Administration/Office of War Information (FSA/OWI) photographed our America in one of her darkest yet remarkable periods. They spent countless hours photographing scenes and portraits that visually embraced the effects of the Depression on America's rural and small town populations, the nation's subsequent economic recovery and industrial growth, and the country's great mobilization for World War II. Some of these images, some 160,000 black and white and 1,600 in color can be seen on the website of the Library of Congress. Many went on to appear in a book released in 2004 called "Bound for Glory: America in Color 1939-43" and are part of a permanent online exhibit.
One of these photographers was Russell Lee, a man who obtained a degree in chemical engineering, but abandoned that career to try his hand as a landscape painter and eventually became one of the world-renowned "FSA" photographers in 1935.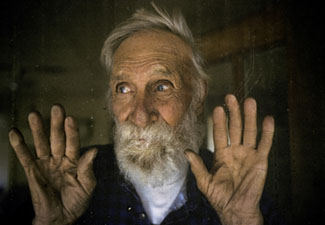 One of the places that Lee spent a fair amount of time in was Pie Town New Mexico, a small town off of highway 60 at nearly 8,000 feet. While Lee used black and white film, he also used a new color film from Kodak called Kodachrome. In one of Lee's photographs on Kodachrome appears a little boy named Kenneth McKee (third from the left in overalls). That little boy would go on to spend his entire life in Pie Town as a mechanic.
McKee was 8 years old at the time. The next time McKee would appear on Kodachrome would be some 66 years later when I spent the day with him and his wife in September of 2006. McKee was a gracious man with a with an open heart and kind demeanor whom which I will always remember as I continue on this journey of visually connecting the past through the present on into the future as this project unfolds.
For me, this is where the story of "Our World: One last look on Kodachrome" started, in Pie Town, New Mexico on September 9th, 2006. Aside from seeing things come full circle on my own, I have since been meeting people like Author John Newkirk who readily sees the power in Kodachrome coming full circle in the stories that are told on the film through the lives that fill it with color. His example is a book called "The Old Man and the Harley" in which he retraces his father's motorcycle ride across the U.S. in 1939.